Overview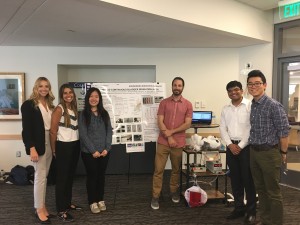 Our philosophy regarding the essential features of research training for residents includes a central role for the research project. We expect that all residents will share the common experience of developing a research project that includes a detailed understanding of the clinical and scientific problems, conceptualization of the research question, consideration of experimental conditions and confounders, accuracy of measurement, visualization of raw data, analysis and statistical testing, interpretation of results and dissemination of new knowledge.
The UW Department of Urology has built a strong infrastructure for urologic research. The Department's 29 MD and 7 PhD full-time faculty members have extensive research activities across UW Medicine, including 38 grants and over 35 clinical trials. Annual funding from NIH and other grants and contracts exceeded $5 million in 2017.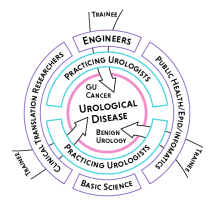 Many grants are centered outside of the Department, including other UW Units, Seattle Children's Research Institute and the Fred Hutch Cancer Research Center. Free campus shuttles connect each location, all within a 5-mile radius from the Department of Urology, enabling frequent and easy collaboration.
The Department is a national research leader with over $5m in annual funding, and set within the unsurpassed environment of UW School of Medicine, ranked 2nd in research funding. UW Urology has a mission to educate for the future by providing research training for candidates interested in a urological surgeon-scientist career.
Urology Research Seminar Series
As part of the weekly teaching conference, residents and faculty report on work in progress or give more in-depth presentations on their respective research projects. The forum provides a rich environment for cross-fertilization of ideas between urologic research and clinical groups.
Urology Research Day
Participation at a year-end research symposium hosted by the Department of Urology is required of all residents. Topics cover a wide range of urologic diseases including a keynote speech by the Hirschler Endowed Visiting Professor and research abstracts presented by Urology trainees. Past Visiting Professors include Gerald Timm, PhD (engineer, inventor, entrepreneur), Dolores Lamb, PhD (molecular biologist, Center Chair), and David Miller MD, MPH (applied health services researcher).